A bustling city with amiable people, exceptional cuisine and an active nightlife, Bangkok entertains thousands of visitors from all around the world every year. Despite its reputation as the rowdy capital of Thailand, Bangkok offers a variety of fun activities for all age groups, from sizeable shopping centres and romantic dinner cruises to ladyboy cabaret shows and night clubs. We've collected together some of our favourite things to do in Bangkok at night so you can find your perfect evening entertainment.
1. Visit a night market: Patpong
One of the best night markets in Bangkok, the Patpong Night Market is known for its lively, energetic atmosphere and a wide array of goods including tourist souvenirs, T-shirts, illegal DVDs, fake brand name fashion accessories and other handmade items. Small food stalls selling delicious traditional Thai meals, snacks and desserts, as well as large international fast food franchises such as McDonald's and Burger King are plentiful in the area. Initial prices charged by the sellers are extremely inflated so don't be afraid to drive a hard bargain. One thing to remember, this market is situated in the red light district of Bangkok, with clubs and go go bars lining its streets, so pay attention to where you're going.
Address: Phat Pong 2 Alley, Suriya Wong, Bang Rak, Bangkok 10500
Nearest Station: Sala Daeng Station (BTS Skytrain Silom Line)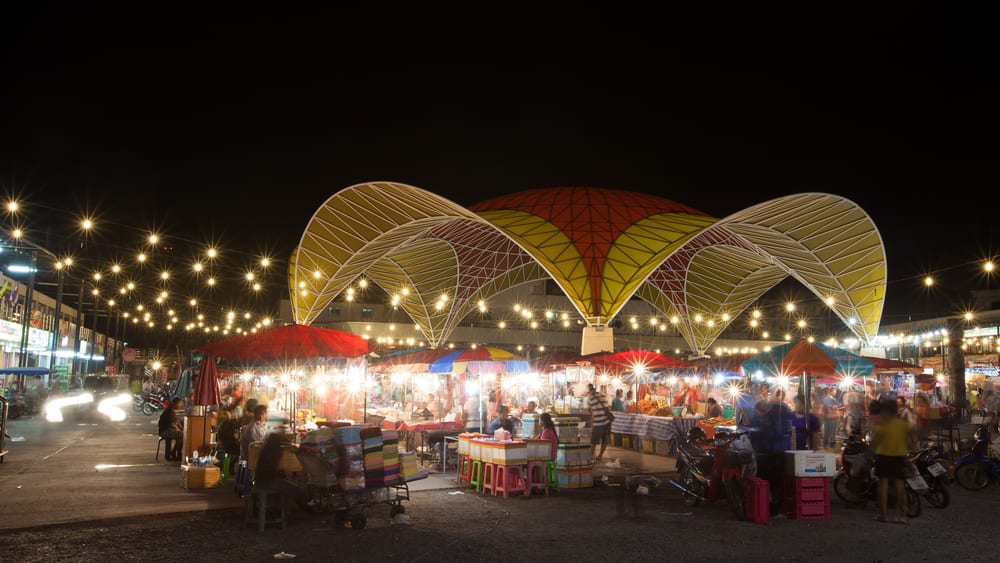 2. Dine above the clouds: Baiyoke Sky Restaurant
Located in the city's most scenic hotel, the Baiyoke Sky Restaurant offers an incredible dining experience with impeccable service and a spectacular view of Bangkok city. Immerse yourself in the charming decor of the restaurant and sink your teeth into delicious seafood, Thai dishes, pastas, cheeses, the infamous Peking duck, chocolate fountains and other sweet treats prepared by some of the best chefs in Bangkok. After a delicious dinner, take the elevators up to the Observation Deck and the Revolving view point for an even more breathtaking, 360° rotating, view of the city from the 84th floor of the hotel.
Address: 222 Ratchaprarop Rd, Ratchathewi, Bangkok 10400
Nearest Station: Airport Rail Link Station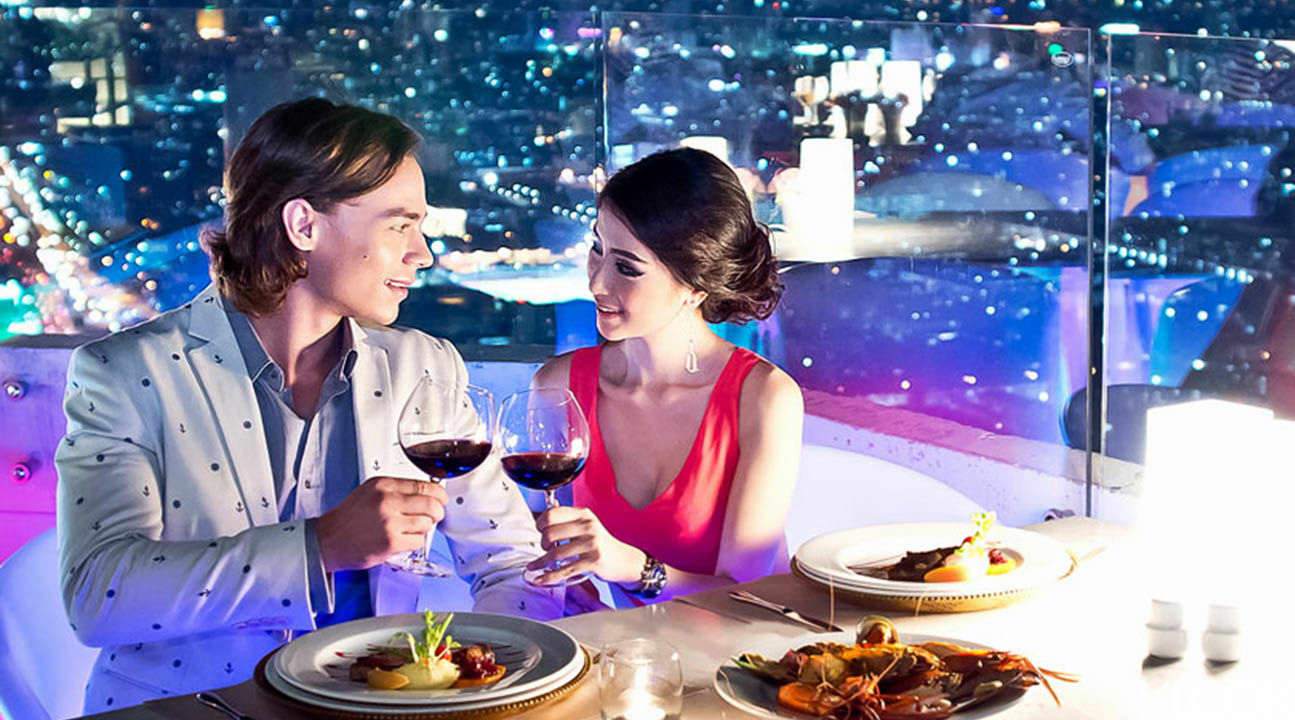 3. Experience nighttime mall culture: Asiatique The Riverfront
Located on the banks of the renowned Chao Phraya river, the Asiatique is a massive night bazaar and shopping mall with over 1500 boutiques and 40 restaurants all under one roof. Its convenient design and organization into four main categories, and a complimentary map of its stores and restaurants makes it easier to navigate the enormous shopping area. With charming storefronts and a wide range of fashionable Thai brands as well as affordable stores selling inexpensive merchandise, and an upscale dining selection of Italian, Thai and seafood restaurants, you are sure to find something you enjoy. The Asiatique is also home to the famous Calypso Cabaret show, one of the best ladyboy shows in Bangkok. With colorful and glamorous burlesque performances by the most beautiful ladyboys of Thailand and realistic impersonations of Marilyn Monroe and Elvis Presley, it is a must see performance in Bangkok. Explore the many things to do at the Asiatique mall then take a late night walk along the promenade for a splendid view of the Chao Phraya river.
Address: 2194 Charoenkrung Road, Wat Prayakrai District, Bangkor Laem, Bangkok 10120
Nearest Station: Saphan Taksin Station. Exit 2, go to the pier and take the Asiatique Shuttle Boat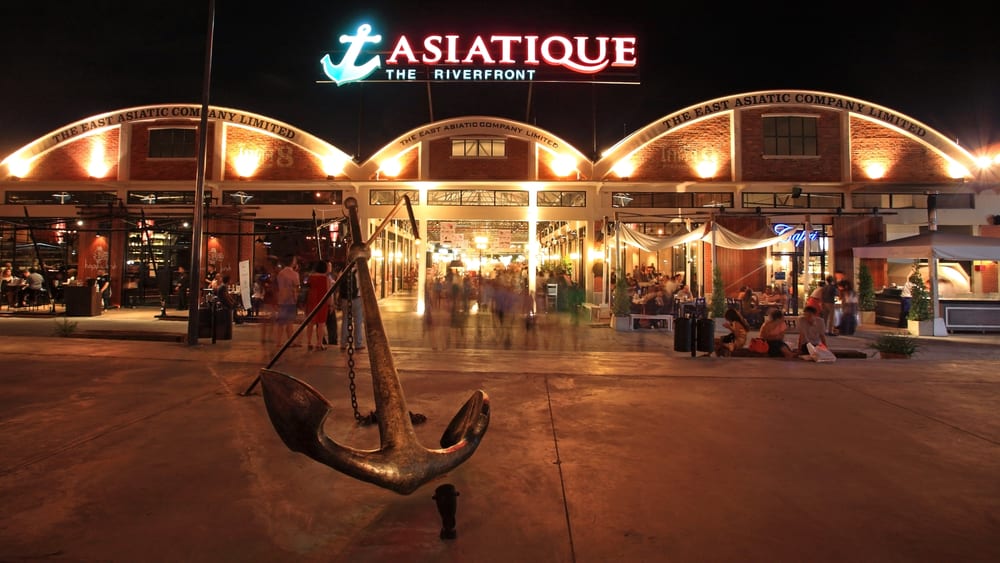 4. Party til dawn: Route 66 Club
Perfect for night owls and party goers, this club hosts Bangkok's most raving parties seven nights a week and caters to every musical taste from hip hop and dance pop to 70's American soul music and latest Thai hits. With an energetic and lively atmosphere, a dance floor and a large menu of delicious cocktails, beers and hard liquor, this bar is a rite of passage for teenagers and university students across the city. There is no entry fee for locals but foreigners have to pay 300 THB, which can later be redeemed for drinks.
Address: 29/33-48, Royal City Avenue Building, Soi Soonvijai, Rama 9 Rd., Bangkapi, Huay Kwang, Bangkok 10310
Nearest Station: Phra Ram 9
5. Cruise the Chao Phraya: Princess Cruise
Surrounded by small huts, solemn temples and churches and modern luxury hotel buildings, the Chao Phraya river is a perfect depiction of traditional and modern Bangkok. Cruise in comfort on the King of Rivers while enjoying a sumptuous Thai and international dinner on the Princess Cruise. With a live band playing soft saxophone tunes during dinner and 80s and 90s music including songs by Donna Summer and ABBA after dinner, and a splendid view of historical landmarks such as the Emerald Buddha Temple and the Grand Palace from your dinner table, this cruise is one of the best ways to explore Bangkok.
Address: River City Pier, Si Phraya (Soi Charoenkrung 30)
Nearest Station: Hua Lamphong Station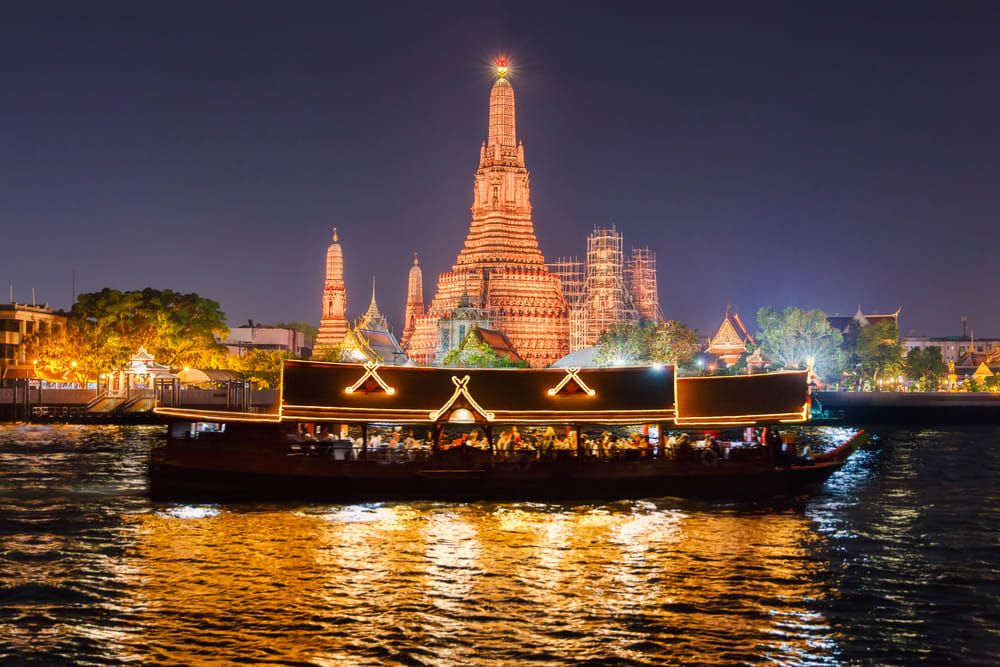 6. Have a unique dining experience: Dine in the Dark (DID)
Situated on the ground floor of the Sheraton Grand Sukhumvit Hotel, this unique culinary experience allows you dine in a pitch-black room where you can only smell and feel your food. After a brief explanation of the DID concept in a chic, stylish lounge, you will be given a choice of 4 course set menus: Asian, western, vegetarian and a special surprise menu, and guided to your dark room by a visually impaired guide. When your eyesight is impaired, you'll notice that your other senses, particularly taste, are heightened, making for an intense evening meal. What's more, for every dinner purchased the restaurant donates a considerable amount of money to the Foundation for the Blind. After a delightful meal, you will be escorted back to the lobby where the staff will reveal the menus with photographs of each dish.
Address: 250 Sukhumvit Road, Bangkok 10110
Nearby Stations: Asok BTS Skytrain Station and Sukhumvit MRT Subway Station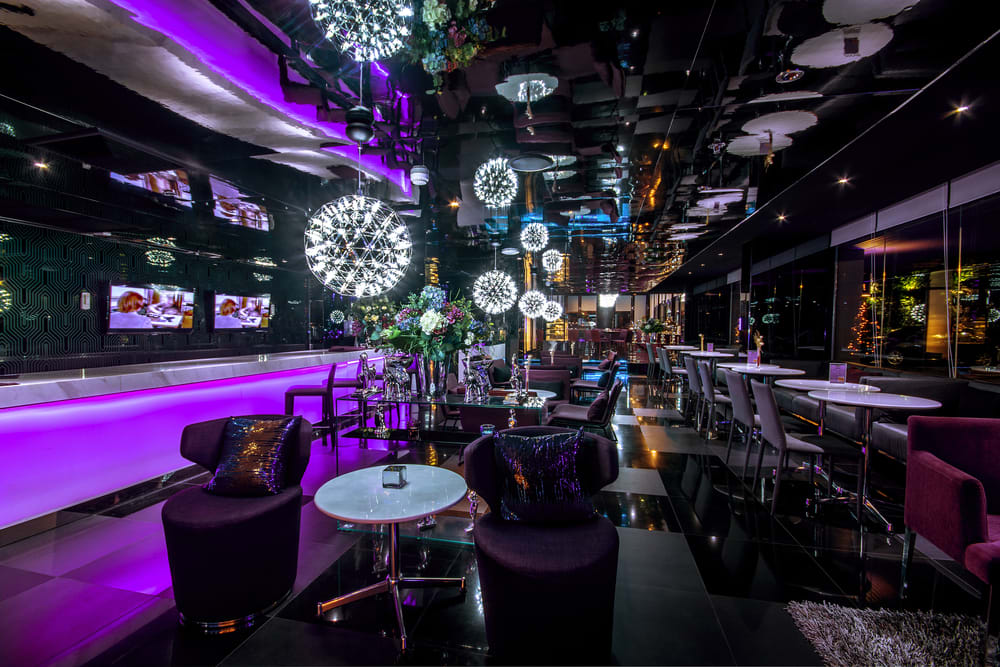 7. Watch a Bangkok show: Siam Niramit
An engaging and entertaining way to understand the traditions of Thailand, this show is a dramatic depiction of Thailand's historical, spiritual and cultural heritage. Enjoy a delicious pre show Thai dinner and watch as hundreds of dancers, musicians, and adorable goats and elephants take your breath away with their incredible performances. Performed on the world's largest stage, as reported by the Guinness Book of World Records, Siam Niramit contains every element of entertainment, from replica villages and dancers and acrobats suspended from the ceiling, to advanced sound and light systems and a stage that transforms into a river towards the end of the show.
Address: 19 Tiamruammit Road, Huay Kwang, Bangkok 10320
Nearby Station: MRT Thailand Cultural Center, Exit 1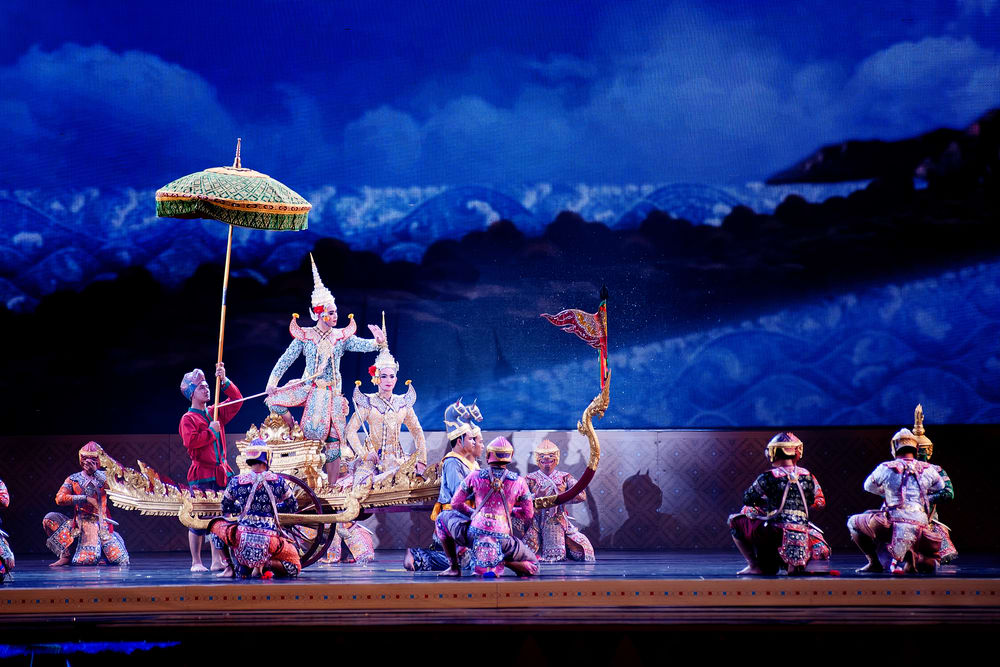 8. Ride off into the sunset: Bangkok Sunset Bike Ride
Exploring Bangkok on a bike is an interesting way to familiarise yourself with the culture, culinary traditions and the lifestyle of the city. Embark on an sunset bike ride and spend your evening riding through the Thonburi area along the renowned Chao Phraya River while discovering quaint little street food markets selling delicious Thai snacks and flower markets selling a variety of gorgeous plants and flowers. Enjoy a breathtaking sunset and take pictures with the beautiful colors of the sky as the sun goes down. Take a break from pedalling and dine at a local Thai restaurant then continue your journey along the river to some of the most magnificent landmarks of the city including the Temple of Dawn, the Grand Palace and the Temple of Reclining Buddha.
Address: 2 Charoen Krong Road Soi 30, Bang Rak, Bangkok
Nearest Station: MRT Hua Lamphong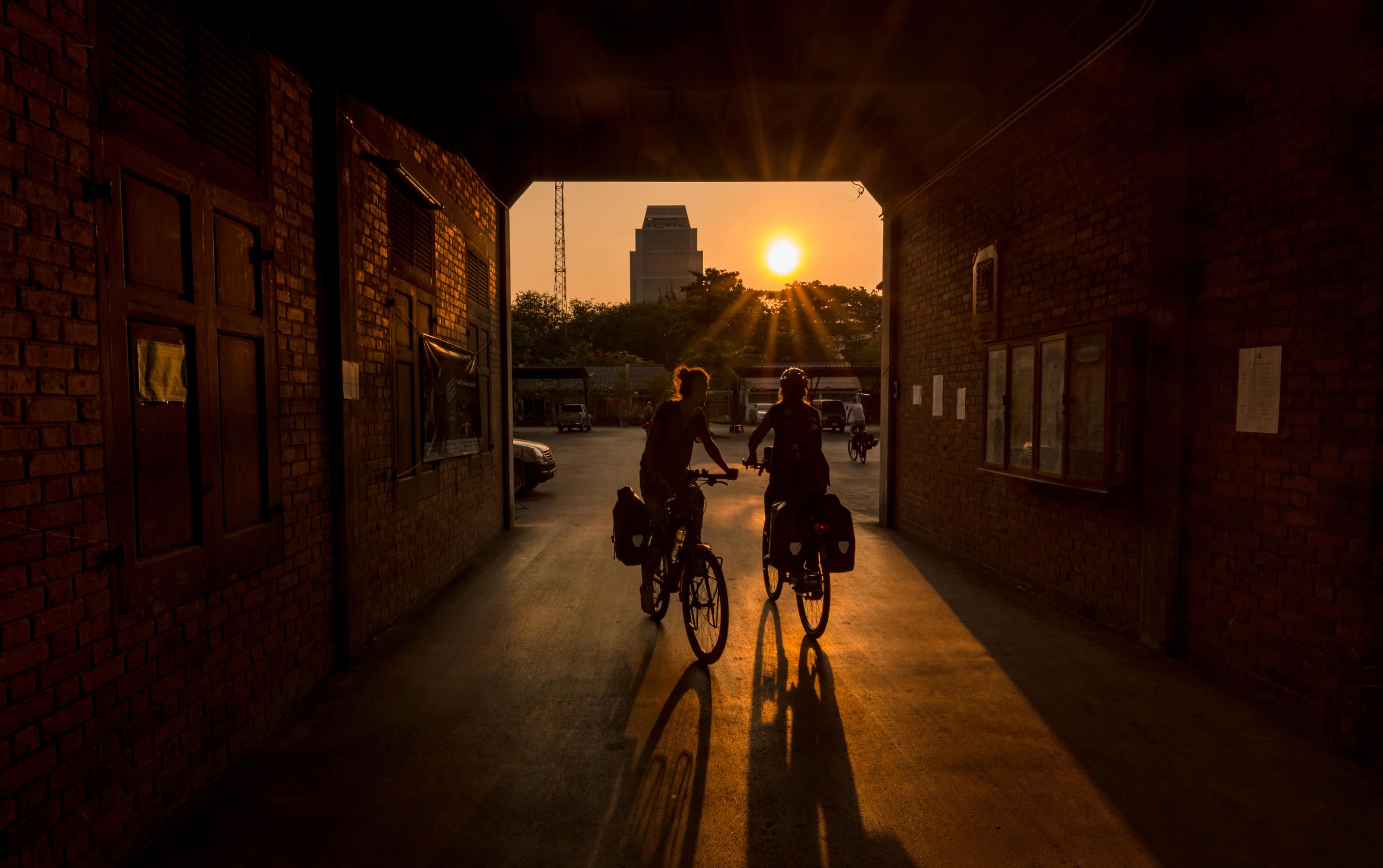 DISCOVER MORE BANGKOK EVENING ACTIVITIES HERE